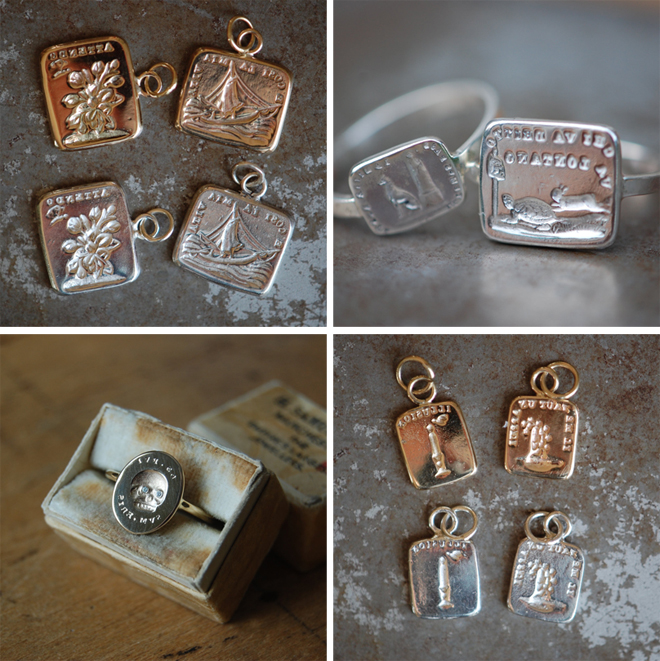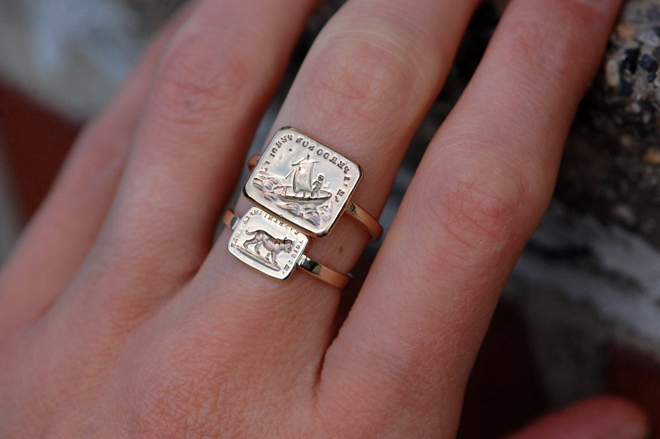 Jean Jean Vintage is one of my go-to shops when I'm looking for vintage and antique jewelry. I have a couple of Jean Jean Vintage antique lockets, and even got True and Brave's lockets from this lovely shop too. This reminds me to check the shop for some sweet lockets for Soul and Glow. Emily, the lovely purveyor behind Jean Jean Vintage, has such an eye for curating gorgeous antique pieces, but she has taken it a step further, and now has her own collection made from antique wax seals. I love seeing my favorite shops blossom and grow.
She has two collections… The Cachet Collection and Es Fui Skull Collection. Emily shares, "The Victorians used wax seals to stamp all of their correspondence and the choice of which seal to use was intensely personal and powerful. The seal was the first thing that the reader would see – a preview to what was written inside. News of a death required a somber seal with a phrase of comfort, a "billet doux" to a lover something tender or playful, and a business contract perhaps just stamped with the day of the week."
The pieces in these collections can be made into a pendant, ring (even a swivel ring), and cuff links (with ranges from $80-$560).
With the Cachet Collection, antique wax seals become wearable "objets d'art"; small reminders of the big sentiments that rule us all. The messages and images on the seals are timeless, carrying just as much meaning for the modern woman as they did for the Victorians almost two centuries ago. Cast from original ca. 1850s artifacts, hand-finished with love in Michigan, and designed to be worn every day. My favorite is piece from this collection is seal No. 9 because I commonly use the phrase, "Such is life."
The Es Fui Skull Collection reminds me of the brevity of life. I've always been enamored with the sentiments behind "Memento Mori" pieces. The collection is cast from of a ca. 1880s Victorian wax seal, originally in black glass. In shorthand Latin it appears as, "Es, Fui; Sum, Eris," which means, "What you are, I once was; what I am now, you will be."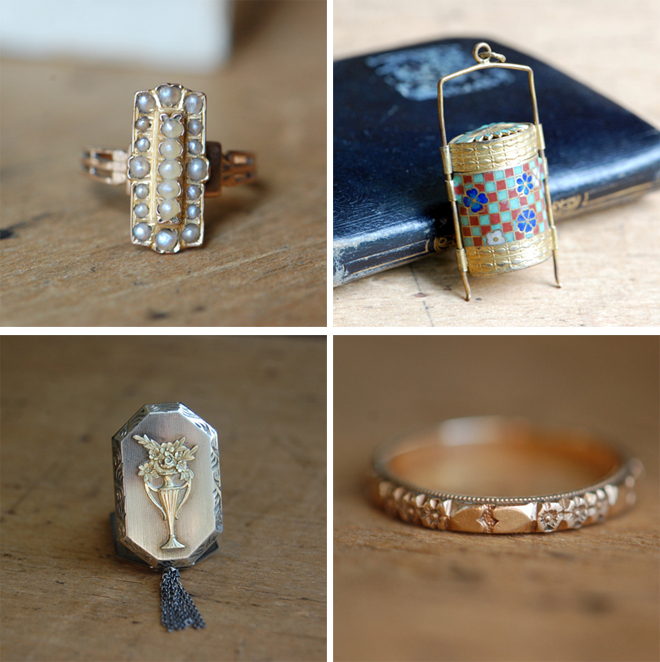 Besides her own collection, she curates beautiful antique pieces. If you've been following me for awhile, you know I save my pennies for shoes and antique rings (I make Ben play jewelry store with me and my collections, and he just laughs). To me, antique jewelry are like little works of art, since they are often one of a kind.
If you share in my love for antique and one of a kind jewelry, take a peruse through Jean Jean Vintage and add a few things to your Christmas wish list. Then, don't forget to send that list to your husband (or significant other, bestie, parents… basically, any one who likes to spoil you from time to time). Happy shopping!
top four images, clockwise: no.9 wax seal pendant, sterling silver signet ring, no.14 wax seal pendant, skull ring
middle image: double sided wax ring seal
bottom four images, clockwise: 1900s French seed pearl ring, japanese enamel pendant, 1930s patterned band, flowers and tassel locket
visit the Jean Jean Vintage shop…
follow Jean Jean Vintage on instagram…